I received a letter from Pam a CMS Mission partner in Japan about her recent visit to Taiwan
The last weekend in February I left Japan to go to Taiwan for a long weekend to visit Catherine, a CMS Mission Partner in Taipei. Osaka and Taiwan are sister dioceses. I had no idea what Catherine was planning for those 4 days but I had the most amazing time and a brief but real introduction to the Taiwanese church. Taiwan was occupied by the Japanese for over 40 years and at the end of the second World War they just left. Anglican Churches had just been for the Japanese and so there was no Anglican Church until the Americans reestablished them and Taiwan became a Missionary Diocese of the Episcopal Church, which it still is. Most of it is younger and more vibrant than the Anglican Church here.

I meet Mama Tan (a relation of

Amy Tan

-

Joy Luck Club

) who is now 87. She came to Taiwan at the age of 24 to marry and she never saw her parents again. Her father was imprisoned twice in Communist China for his Taiwan connection. The 2nd time he died there. She showed us a file of some of her father's papers including the accusations against him that people had been "forced" to write. Her family, three sons and a daughter are all Christians and have a T-shirt Company. Catherine lives on the campus of

St John's University

. The Chapel is also the Parish Church and has a full programme for students as well as church people. Mother Tan had shown me the book "Living is Mission" that the house groups (Sunday afternoon one a month) were going to study. They were supposed to read the 1st Chapter, She had already read the whole book. 




Catherine's group of young people meets every week and usually studies in English. They have some Japanese speakers so I was asked to give my testimony in Japanese and they translated into Chinese. It was great fun. The last morning an older man who is just finishing at Theological College and his wife drove us up into the mountains to see cherry blossom and then in a valley fields of arum lily being grown. Then they drove me to the airport. Many new friends, beautiful scenery. delicious Chinese food. It was a very blessed time and only two and a half hours from Osaka by plane!!!.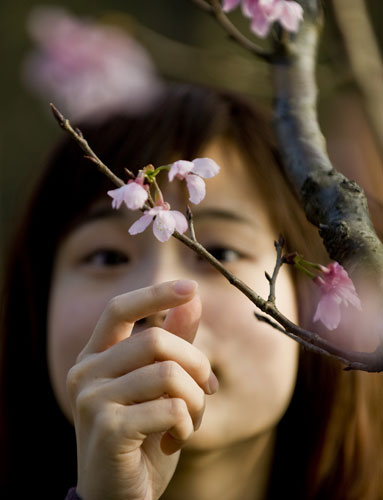 The Guardian has a beautiful photo article on Cherry Blossom festival in Taiwan 
Yangminshan flower festival
(February 20-March 22)